Woudrichem
Jump to navigation
Jump to search
WOUDRICHEM
Provincie : Noord Brabant
Opheffing : 2019 Altena
Toevoegingen : 1973 Almkerk (ged, 1879 Emminkhoven), Andel (ged),Eethen (ged, Drongelen, Genderen, Meeuwen), Giessen, Veen (Noord Brabant)(ged)
I : 16 juli 1817
"Van goud beladen met 2 afgewende zalmen van keel, geplaatst en pal. Het schild hangende aan een lint van wit aan een dorre boom."
NB : In het register is geen tekst vermeld, alleen een tekening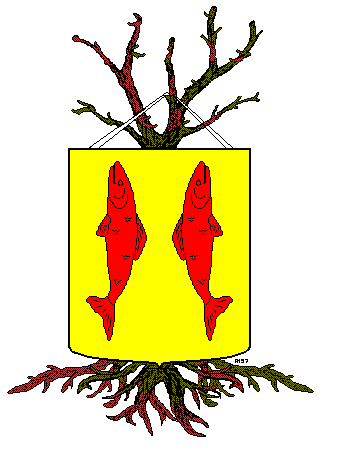 II : 23 maart 1974
"In goud 2 afgewende zalmen van keel; een schildhoofd van sabel met 5 breedarmige kruisjes van goud. Het schild gedekt met een gouden kroon van 3 bladeren en 2 parels."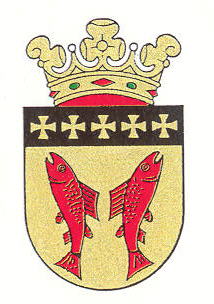 Oorsprong/verklaring
De stad Woudrichem werd als zodanig genoemd in 1389, maar had al in 1241 een schout en in 1290 schout, schepenen en raad en kan dus al als een stad beschouwd worden.
Het oudste zegel, uit 1306, is half verloren gegaan. Uitgaande van een symmetrisch geheel, laat het een boom met 2 vogels zien, ter weerszijden vergezeld door een zalm. Op een volgend zegel was er sprake van 1 zalm, geplaatst onder de boom.
In de 14e tot de 16e eeuw vertoonde de stadszegels een boom met 2 schilden, beide Altena (2 zalmen) en Horne (3 posthoorns), echter in de 14e eeuw respectievelijk rechts en links van de boom en in de 16e eeuw omgekeerd. De heren van Altena waren heren van de stad. De heerlijkheid Altena viel sinds 1242 onder Horne en Kleef.

Het zegel uit de 16e eeuw
(Van Ham, 1984)


Het zegel uit de 17e eeuw
(Van Ham, 1984)
Toen de stad in 1590 overging naar Holland, verdween het schildje van Horne. De kleuren van de zalmen zijn waarschijnlijk willekeurig, maar kunnen ook van Kleef of Holland afgeleid zijn.
De boom is misschien afkomstig van de wapens van 's Hertogenbosch of Haarlem. Woudrichem ontleende zijn poortersrecht namelijk aan beide steden.
In het nieuwe wapen is het schild met de zalmen vermeerderd met de kruisjes uit het oude wapen van Giessen en symboliseren ze tevens de 5 andere voormalige gemeentes.

Het wapen in het dorp (bron)


Het wapen in het dorp (bron)


Het wapen op de Hoogstraat 1 (bron)


Het wapen in de Oldenkott albums +/- 1910


Het wapen in de Koffie Hag albums +/- 1930


Briefhoofd, +/- 1995


Poststempel 1988


Het wapen op een suikerzakje


Het wapen op een sigarenbandje

Follow us :



(when sharing images on Instagram, use #heraldryoftheworld)


Literatuur : Van den Bergh, 1878; Van Ham, 1984