Zandleij: Difference between revisions
Jump to navigation
Jump to search
m

 

(8 intermediate revisions by the same user not shown)
Line 1:
Line 1:

{{nl-water}}

{{nl}}






'''DE ZANDLEIJ'''<br/>

'''DE ZANDLEIJ'''<br/>

Provincie  : [[Noord Brabant]]<br/>

Provincie  : [[NoordBrabant]]<br/>

Opheffing  : 1992 De [[Dommel]] <br/>

Opheffing  : 1992 De [[Dommel]] <br/>

Toevoegingen  : - <br/>

Toevoegingen  : - <br/>

Line 11:
Line 11:

[[FIle:zandley.wat.jpg|center|Wapen van {{PAGENAME}}]]

[[FIle:zandley.wat.jpg|center|Wapen van {{PAGENAME}}]]






====Oorsprong/verklaring====

===Oorsprong/verklaring===






-






{{media}}






[[Litwap|Literatuur]] :  -

[[|Literatuur]]:  -










[[Category:Noord Brabant]]

[[Category:NoordBrabant]]

[[Category:Waterschapswapen]]

[[Category:Waterschapswapen]]

[[Category:Granted 1968]]

[[Category:Granted 1968]]
---
Latest revision as of 08:41, 9 September 2022
DE ZANDLEIJ
Provincie  : Noord-Brabant
Opheffing  : 1992 De Dommel
Toevoegingen  : -

I : 3 juli 1968
"Gedeeld : I van azuur beladen met twee gegolfde schuinbalken van zilver; II doorsneden, boven in sabel een uitgerukte eik van goud, dragende vijf bladeren van goud en vier eikels van keel; onder gedeeld en vervolgens gegeerd van tien stukken van keel en goud. Het schild gedekt met een gouden kroon van drie bladeren en twee paarlen."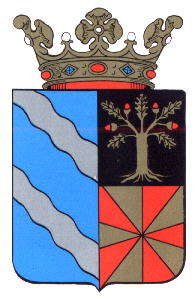 Oorsprong/verklaring
Unfortunately we have no information on the meaning or origin of these arms yet.
If you have any information on the origin or meaning of these arms, or have additional images that you want to share, please mail us your information !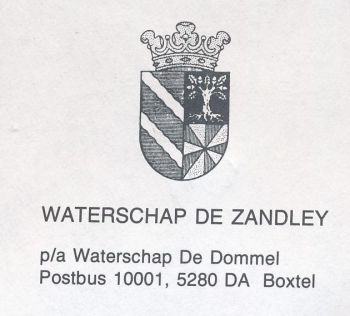 Het wapen op een envelop 1990

Literatuur: -