Kaffe Hag Norge
Jump to navigation
Jump to search
Kaffe Hag : Norske by- og adels våben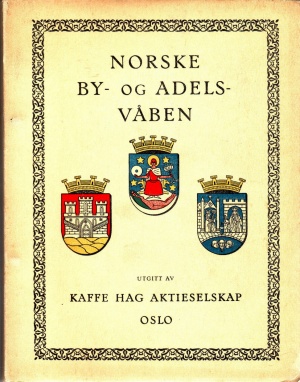 Album information :
Issued by : Kaffe Hag, Oslo, Norway
Date of issue : 1933 (?)
Number of stamps/cards : 81
Image variants : None
Company
For information on the company, see the overview of Coffee Hag albums.
Album
The book was issued by Kaffe Hag Aktieskelskap in Oslo in 1933. The author is Hallvard Trætteberg.
Hallvard Trætteberg (1898-1987) was within the State Archives responsible for heraldry issues for several decades. He wrote numerous articles on heraldry, both personal as non-personal (civic and religious) heraldry in Norway.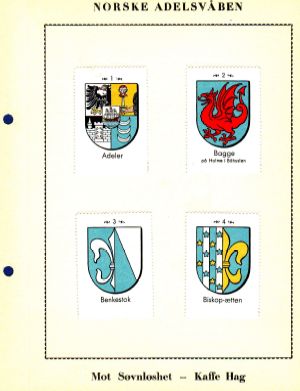 The album is unique among the Scandinavian series, as it also contains the arms of Norwegian noble families, both historical and contemporary. It also contains a larger introduction to heraldry as compared to the other two albums. Like the Danish album it also contains a section on the production of coffee.
The stamps were issued in 8 sheets of 18 stamps each, with an additional 3 stamps with advertising on the last sheet:
The album has been issued with two different front pages:
Unlike some other albums, there is no text on the back of the stamps.
The album was introduced and advertised in many newspapers, but unlike f.e. the Dutch, German, French and Swiss albums, the regular advertisements for Coffee Hag was not used to advertise the album or stamps.
There have been some brochures issued regarding the album, but I have never seen those.
Towns and regions
Personal arms