Unsere deutsche Heimat
Jump to navigation
Jump to search
Unsere deutsche Heimat Wappen und Chronik, Band 1 Baden-Württemberg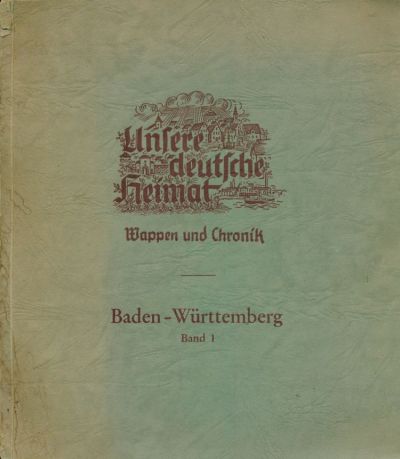 Album information :
Issued by : Deutsche Heimatdienst, Verlag für Heimat-und Wappenkunde, Stuttgart, Germany.
Date of issue : 1952
Number of stamps/cards : 483 (?)
Image variants : -
Background
This album was issued in 1952 and designed by Alfred Dochtermann (who also issued the Panorama Bilderdienst album with the same name). The album deals with municipalities in the State of Baden-Württemberg, Germany and is labelled Band 1. In the preface it is mentioned that a part 2, with arms of the former areas of Prussia, Silezia and Danzig is under preparation. However, most likely not all stamps for the first album were issued (no complete album is known to me) and album 2 seems not to have been issued.
The album mentions 550 municipalities, but for 67 no arms were known at the time of printing, and it is mentioned that these images bay be issued later when new information becomes available. These are probably never issued, making the maximum number of stamps 483. So far I only know of 420, so still for 63 it is unknown if they were ever issued.
Images issued