Heerlen
Jump to navigation
Jump to search

HEERLEN
Provincie : Limburg
Opheffing : -
Toevoegingen : 1982 Amstenrade (ged), Hoensbroek (ged)
I : 1 november 1867
"Een schild van goud, beladen met een heilige in natuurlijke kleur, hebbende een kleed van lazuur met boordsels van zilver, met een gouden gloriering om het hoofd, houdende in de rechterhand een zwaard en ter halverwege een schild van zilver, beladen met den klimmenden leeuw van sabel, gekroond, getongd en geklauwd van goud. "
II : 18 februari 1964
"Gevierendeeeld : I in keel een rechtopstaande, naar rechts gewende, adelaar met uitgeslagen vleugels van goud, staande op een legerveldstandaard van zilver, boven de linkervleugel aangebracht de beginletters CORIO van sabel; II in goud de H.Pancratius in natuurlijke kleur, gekleed in de Romeinse toga praetexta van witte wol met purperen rand omzoomd, met de gouden bulla van de Romeinse jongelingen aan een gouden keten op zijn borst en houdende in de rechterhand een met de punt naar boven gericht zwaard van zilver met gevest van goud; III in zilver een dubbelstaartige leeuw van keel, gekroond, getongd en genageld van goud; IV in keel het mijnwerkersembleem, bestaande uit een schuingekruiste kolenhak en zware hamer, alles van goud; over alles heen een streepkruis van azuur. Het schild gedekt met een gouden kroon van 3 bladeren en 2 paarlen."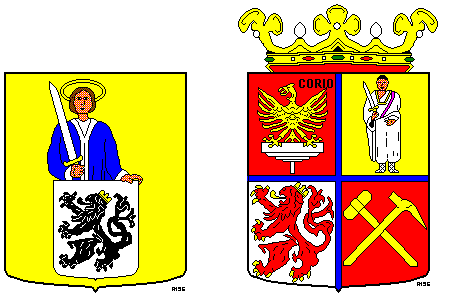 III : 24 november 1982
"Gedeeld : I effen zilver, II in zilver 4 dwarsbalken van keel, over beide delen heen een gekroonde leeuw, gedeeld van keel en sabel, de kroon en de nagels van de linkerhelft van goud. Het schild gedekt met een gouden kroon van 3 bladeren en 2 parels."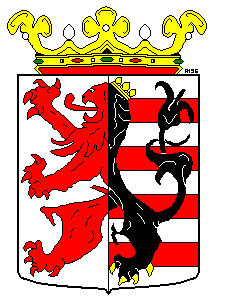 Oorsprong/verklaring
Heerlen is in de Romeinse tijd ontstaan en was bekend onder de naam Coriovallum. De geschiedenis na de Romeinse tijd is eerst vaag, pas in 1065 wordt Heerlen weer genoemd. In de 11e en 12e eeuw is Heerlen in bezit van het geslacht van Are. Behalve Heerlen omvatte de heerlijkheid ook de dorpen Hoensbroek, Schaesberg, Voerendaal en Nieuwenhagen.
De heerlijkheid ging in 1176 over aan het geslacht Van Wickrath, een tak van Van Are. Deze familie verkocht de laatste rechten in 1378 aan de graaf van Brabant. In 1388 werd vervolgens Hoensbroek afgesplitst. Schaesberg werd in 1618 afgesplitst en Voerendaal in 1627, maar vervolgens in 1634 weer bij Heerlen gevoegd. Voerendaal werd definitief afgesplitst in 1776 en Nieuwenhagen tenslotte in 1802.
Heerlen was een van de vier hoofdschepenbanken in het land van Valkenburg. Hoewel het gebied in bezit was van de hertogen van Brabant, is het nooit formeel bij Brabant ingelijfd. Het oudste bekende schependomszegel dateert uit 1364. Het zegel vertoont de parochieheilige, de H. Pancratius, met voor zich een schild, waarop een dubbelstaartige leeuw. Deze leeuw is waarschijnlijk de leeuw van Valkenburg. Ook op latere zegels komt dezelfde afbeelding voor, de heilige achter een schild met de leeuw.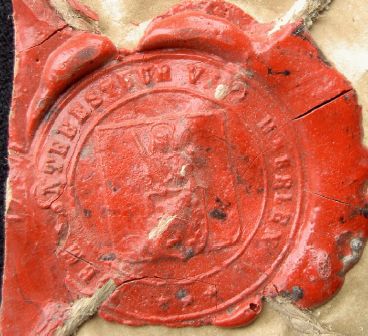 Oud zegel van de gemeente (jaar onbekend)
Het oudste wapen is gebaseerd op het schependomszegel. Waarom de leeuw in zwart is uitgevoerd in plaats van in rood, zoals de leeuw van Valkenburg, is niet bekend.
Aan het eind van de 19e eeuw werd door het gemeentebestuur pogingen gedaan het wapen aan te passen. Allereerst wilde men de leeuw van rood hebben en ook de heilige moest worden aangepast; de H. Pancratius is als jongeling afgebeeld in 'moderne' dracht. Hij leefde echter in de Romeinse tijd en de gemeente wilde dus de kledij aanpassen. De Hoge Raad van Adel wilde echter ook de voorstelling veranderen; een gedeeld schild met links de H. Pancratius en rechts de leeuw. De gemeente wilde echter de zegelvoorstelling handhaven, zodat er geen wapenverandering heeft plaatsgevonden.
In 1964 is het wapen gewijzigd op initiatief van de toenmalige burgemeester Van Rooy. Hij wilde de vier belangrijkste perioden van de geschiedenis van Heerlen gesymboliseerd zien. Als eerste de Romeinse tijd. Aangezien Coriovallum een garnizoensplaats was, werd gekozen voor een legerveldstandaard, met de letters CORIO. De H. Pancratius werd opnieuw opgenomen, en de leeuw van Valkenburg werd in keel uitgevoerd. Het vierde kwartier symboliseerde de mijnbouw, die met name in het begin van de 20e eeuw een belangrijke rol in de gemeente heeft gespeeld.
Na de samenvoeging met Hoensbroek werd het wapen van deze laatste gemeente gecombineerd met de leeuw van Valkenburg, als zijnde het oudste wapen van Heerlen. De beide parochieheiligen kwamen hierbij te vervallen.
English
Heerlen was a Roman settlement, named Coriovallum. After the Roman era not much is known about the village, until it is mentioned in 1065. In the 11th and 12th century the village was a possession of the Van Are family. The Heerlen estate also included the villages Hoensbroek, Schaesberg, Voerendaal and Nieuwenhagen.
The estate was acquired in 1176 by the Van Wickrath family, a branch of the Van Are family. In 1378 the estate was sold to the Count of Brabant. In 1388 Hoensbroek became a separate estate, followed in 1618 by Schaesberg, in 1627 Voerendaal and Nieuwenhagen in 1802. Voerendaal was again part of Heerlen between 1634 and 1776.
Heerlen was one of the four main councils within the Valkenburg territory, which was a possession of the Dukes of Brabant, although it was never incorporated into Brabant proper.

The oldest seal of the council dates from 1364 and shows the local patron saint, St. Pancratius holding ashield with a double-tailed lion. The lion most likely is the lion of the Valkenburg territory. Later seals all show the same composition.
The oldest arms of the town, from 1867 are based on the seal and thus show St. Pancratius and the lion of Valkenburg. Why the lion is shown in black instead of the original red is no longer known.
At the end of the 19th century the local council tried to change the arms. The main issue was to change the colour of the lion to red, but also the clothing of the saint should be replaced by the Roman clothes he was supposed to be wearing, instead of the ecclesial clothes in the arms. The changes were acceptable for the Hoge Raad van Adel (Dutch college of arms), but they insisted in changing the arms into a divided shield with the lion on the right and the saint on the left half. The council, however, wanted to keep the historical composition. Hence the arms were not changed. In 1964 the mayor at the time, Van Rooy, took the initiative to change the arms. His idea was that the arms should depict the history of the town. The first quarter thus shows an eagle of the Roman legions and the letters CORIO for the Roman name of the town. The second quarter shows St. Pancratius, properly dressed, and the third the proper Valkenburg lion. The fourth quarter indicates the importance of mining for the region and the town. After the merger with Hoensbroek the arms changed again. The new arms show the lion of Hoensbroek combined with the lion of Valkenburg.

Follow us :



(when sharing images on Instagram, use #heraldryoftheworld)


Literatuur : Eversen en Meulleneers, 1900; Anoniem, 1966; Jamar, 1983a; 1983b; Brievenboek Hoge Raad van Adel 1895 (28 augustus en 8 oktober)